Committed to Sustainability
XP Power is fully committed to leading the industry on corporate social responsibility matters. XP Power believes it can play a pivotal role in the world of industrial and healthcare electronics where its ultra-high efficiency products can save energy and reduce greenhouse gas emissions year after year.
In 2009 XP Power established an environmental committee to help achieve its vision of leading the industry on environmental matters. Beneath that committee was put in place a network of environmental representatives for each of XP Power's key sites. These environmental representatives share ideas and best practice across the company and promote and encourage responsible environmental behaviour among its employees and engagement in the local communities in which it operates.
Full details of XP Power's commitment to sustainability is available here:
After a review, it was clearly evident that the greatest contribution XP Power can make to protect the environment is by developing and encouraging customers to adopt XP Power's ultra-high efficiency products. These class leading "Green XP Power" products waste less energy, consume less physical material and avoid the use of hazardous substances.
In parallel, good environmental practices we have adopted within the facilities and the communities in which XP Power operate.
A copy of the Environmental Policy is available here:
Environmental Policy
The Strategy
Historically, electronical power conversion has been a notoriously inefficient process. The original linear transformers still in use today in some sectors are typically less than 50% efficient, with more than half the input power wasted as heat. XP Power does not operate in this area, specializing instead in power converters utilizing modern "switching" techniques enabled by semiconductor technology, which are much smaller and more efficient.
Modern power converters have typical efficiencies of 80%. While this is a major improvement over legacy products, XP Power has developed technologies that further reduce energy wastage, resulting in products which are up to 95% efficient.
Our goal is to continue to develop such products and sell the benefits to our customers. XP Power believe this will be helped by energy efficiency legislation, pioneered in the consumer electronic and office equipment markets, likely to be applied to the industrial and healthcare markets served.
The Most Environmentally Friendly Manufacturing Facility in Our Industry
The Vietnamese facility, located in Ho Chi Minh, meets the demanding Gold plus rating of the BCA Green Mark Scheme, the leading environmental standard set by the Singapore Building and Construction Authority for non-residential buildings in tropical climates. This rating covers not only the energy efficiency of the building but also water efficiency, environmental protection, indoor environmental quality and other green features and innovations.
A photovoltaic solar panel array helps provide power to the facility and rain water is collected for use within "grey water" systems in the building. High efficiency air conditioning systems have been deployed and energy saved through an efficient building envelope.
Other environmental initiatives implemented by the Environmental Representatives include:
Low energy lighting
Water reduction initiatives such as water saving toilets
Encouraging the use of electric cars by the installation of charging stations in key North American facilities
Holding employee awareness events promoting Earth Day, cycling to work and ride sharing
Recycling of waste materials
Unplugging power converters overnight
Using electronic burn in equipment which is able to reuse 50% of the burn in power
Recycling solder waste on site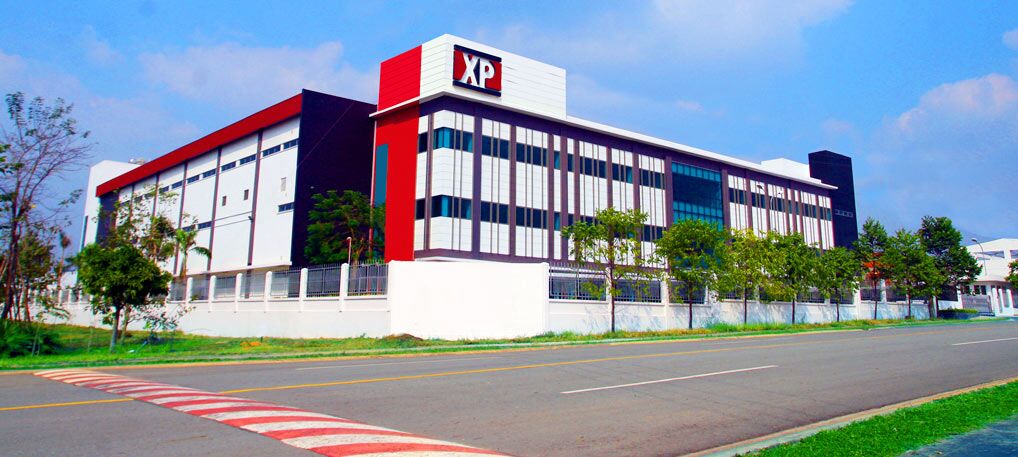 Responsible Business Alliance (formerly EICC)
The Responsible Business Alliance (RBA) is a non-profit coalition of leading electronics companies dedicated to improving social, environmental and ethical conditions in their global supply chains. RBA members commit and are held accountable to a common Code of Conduct and utilize a range of training and assessment tools to support continuous improvement. The RBA is comprised of more than 110 electronics companies with combined annual revenue of greater than $4.75 trillion and directly employing over 6 million people.
XP Power achieved Full Membership of the Responsible Business Alliance (formerly EICC) in March 2011. The Company adopted the Code of Conduct and have been working with its key suppliers to ensure they too are compliant with the Code.
The RBA is enabling XP Power to make continuous improvements to its performance on environmental matters but also in employee relations, health and safety and business ethics.
Integrity of Our Supply Chain
As well as adopting the standards set by the Code of Conduct XP Power also works closely with its suppliers to encourage them to adopt the same high standards. Supplier audit process includes evaluating suppliers' performance against the environment, treatment of labor, health and safety and business ethics standards set out in the EICC Code of Conduct. The policy is to disengage with suppliers found to be environmentally negligent or non-compliant with XP Power's policies.
As well as conducting regular supplier audits XP Power also hosts a supplier day at its China facility which, amongst other things, allows XP Power to communicate its expectations so they can work closely together on improving environmental, corporate social responsibility and commercial issues.
To the Environment and Communities
CO2 Emissions
In 2009 XP Power set itself a target of reducing CO2 emissions per unit of revenue by 5% per annum over the next five years. This aim aligns with the Chinese Government's target of reducing carbon emissions per unit of GDP by 40% to 45% between 2005 of 2020. XP Power measure its CO2 emissions in accordance with the internationally recognised Green House Gas (GHG) Protocol and its metrics include scope 1 and scope 2 emissions.
XP Power's has seen a 35% reduction in this metric since starting to measure CO2 emissions per unit of factory revenue in 2009. Consequently, the Group is still tracking ahead of its five year CO2 reduction target. The additional environmental features built into the new Vietnamese facility will underpin a further improvement in the future. The photovoltaic solar panel array generated 60,916 kWh of electricity during the year reducing carbon emissions by approximately 33 tonnes.
Water
XP Power does not use water within its manufacturing processes and is therefore a low-level water user. However, XP Power is mindful that to ensure water usage is minimized the use of alternative sources of water such as rainwater is maximized and that any wastewater is not contaminated. XP Power's new facility in Vietnam leads the way with an on-site water capture and recycling system supplying "grey water" to the building's plumbing systems.
XP Power have set targets to reduce water usage per employee each year. A copy of the Water Policy is available here:
Water Policy
Harmful Substances
European legislation on the Reduction of Hazardous Substances (RoHS) came into effect in 2005. This legislation limited the levels of certain hazardous substances, including lead, in manufactured products. Although the legislation is applicable only to products sold in Europe, and at the time of its introduction was not applicable to medical products, XP Power took the decision to make all of the products it designs and manufactures compliant. This decision was not only good for the environment but also good business practice.
RoHS Statement
Community Relations
The worldwide network of Environmental Representatives also encourage and spearhead involvement in the communities in the locations where XP Power operate. Its employees around the world have continued to engage with their local communities. As well as providing open days for school students, XP Power donated educational kits to local primary schools in Asia, Europe and North America to encourage an interest in technology and electronics. XP Power employees have participated in food banks and raised money for multiple charities.