Our markets
A diverse market means multiple opportunities for growth – and we're primed to seize them

Running ahead of the curve
Having one of the most diverse, up-to-date and adaptable product portfolio puts us in an exciting position. Given the varied nature of the market we serve, it enables us to come up with high-quality, reliable solutions to a wide range of power problems.
Our customers come back to us because they recognise the value of our portfolio and the solutions we provide. They also know that they'll be getting unrivalled service and support from our technical sales team and engineers.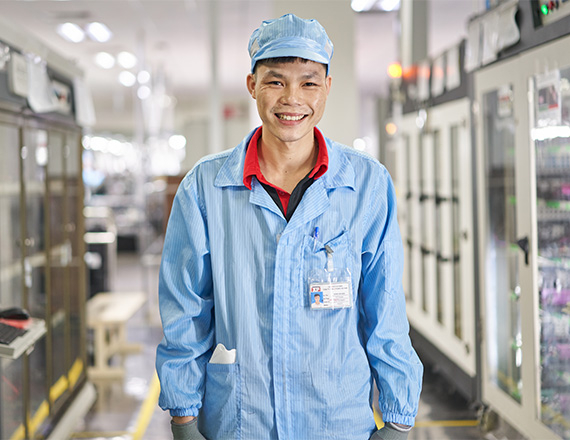 Leading the pack
We want to be the first-choice power solutions provider in the world, and we believe we are well placed to achieve that goal. We have a close understanding of what is a highly complex, varied market. We recognise the opportunities that its diverse nature presents and have ideas for how to capitalise on the wider trends shaping its growth.
Increasing our market share
Power converters are used by many different customers, in many different product types, end applications and locations around the world. Where there is an opportunity for us to expand our addressable market, we acquire complementary businesses – our acquisitions of Comdel (RF power solutions) and Glassman (high voltage solutions) increased our available market from $4.9 billion to $6.1 billion.
$3.5 bn
The estimated low voltage market value
7.6 %
Our estimated share of the low voltage market, 2021
$2.6 bn
The estimated high voltage/RF market value
4.9 %
Our estimated share of the high voltage/RF market, 2021
Source: Microtech Consultants and XP Power management
The best talent from three continents
With operations in 17 countries across North America, Europe and Asia, we have access to the world's best design and manufacturing talent – and we truly understand the specific needs and opportunities in each region's power converter markets.

North America
Our customers in North America are often the most innovative and fast moving, particularly when it comes to healthcare. North America is also the leader in semiconductor manufacturing equipment, which is a sector with exciting long-term growth prospects for us.
£141.2m revenue in 2021

Europe
In Europe, our business is mainly in industrial technology. That makes it our most diverse market, as we look to capitalise on growing trends such as 3D printing, robotics and the Industrial Internet of Things.
£67.3m revenue in 2021, up from £49.4m in 2016

Asia
Our Asian markets are typically our fastest growing, and we're finding increasing opportunities to deliver the complex, high-quality solutions we pride ourselves on – particularly in the semiconductor manufacturing equipment space.
£31.8m revenue in 2021, up from £11.8m in 2016
An evolving global market
No market is immune to the rapid changes we're seeing all over the world – from societal shifts and climate change to technological advances and new ways of working. These changes present challenges, but they also present opportunities –particularly if you design and manufacture products such as power converters, which play a fundamental role in all types of electronic equipment and processes. Our latest annual report explores the trends and opportunities driving the global power converter market in depth – and shows how we're capitalising on them.
Key trends shaping the market
The digitalisation of everyday life
Electronic devices are changing the way the world lives and works. They're helping us be more efficient, more productive and more comfortable – and they all need power converters to function.
The complex requirements of industry 4.0
Industry 4.0, the Internet of Things, Big Data: these advances are building on the ongoing automation and increasing use of robotics are revolutionising manufacturing processes around the world. More complex systems require smart power solutions.
The evolution of healthcare
The world's population is both growing and aging, which places unprecedented pressure on healthcare providers. The result is an increased demand for diagnostic and medical procedures that use the most effective new technologies – and the most reliable power converters.
The automation of roles once carried out by people
Advances in artificial intelligence are changing the way work is divided between people, electronic machines and robotics. This is fuelling a growing demand for semiconductor devices, which in turn drives demand for both low voltage and high voltage/RF power solutions.
The opportunities driving market growth